Mental Health & Athletes
In 2019, we first published this article discussing athlete mental health. Since then, we have created the Whole Being Athlete program to be better advocates in the athlete mental health space and amplify the voices of athletes who are shattering the stigma of silence. The conversation around athlete mental health has continued, with even more passion, since this article was first published, and we are proud of the work that we've accomplished in this space since then.
In 2019, approximately 46.6 million people were living with mental illness in the US. That's 1 in 5 adults who will be living with a mental health condition at some point in their lives. Many manage symptoms with therapy, medication, eating a healthy diet or exercise. Research has shown that the benefits of exercise can boost moods and improve overall mental health. By moving our bodies we can increase our endorphins and enkephalins, two of the bodies naturally producing hormones that make us feel better. It also allows us time to concentrate on ourselves instead of our busy lives, a much needed break many of us.
However, playing sports does not make athletes immune to mental health challenges. With pressures to perform in the game, as well as in the rest of their public lives, being an athlete can be incredibly challenging for a person's mental health. Student-athletes have additional pressures to maintain their classwork and grades on top of practice and games. When athletes get hurt, they receive time to heal, but what about when those injuries are invisible?
With young adults, especially college athletes, the statistics are startling: 33% of all college students experience significant symptoms of depression, anxiety or other mental health conditions. Among that group, 30% seek help. But of college athletes with mental health conditions, only 10% do. Among professional athletes, data shows that up to 35% of elite athletes suffer from a mental health crisis which may manifest as stress, eating disorders, burnout, or depression and anxiety. We're inspired by athletes such as Olympic swimmer Michael Phelps, USC Volleyball player Victoria Garrick, NBA player Kevin Love and those who are telling their stories and inspiring others to seek help to support the cause.
While it may seem scary, there are small steps you can take to help your mental health. Talk to your family, teammates, coaches or support staff; someone who you feel comfortable sharing what's happening with you. Make an appointment with a therapist or trusted medical professional to help you identify sources of stress and manage your symptoms. Create a Self-Care Plan for yourself to make sure you're setting aside time from training, academics and pressures of daily life to do something for yourself each day, such as meditate, practice yoga, take a walk, listen to music or walk your pet.
Here's a self-care plan worksheet from SocialWorkTech.com to help get you started:
In English
In Spanish
Check Out Resources
Here are a few resources if someone you or someone you know is struggling with a mental health crisis.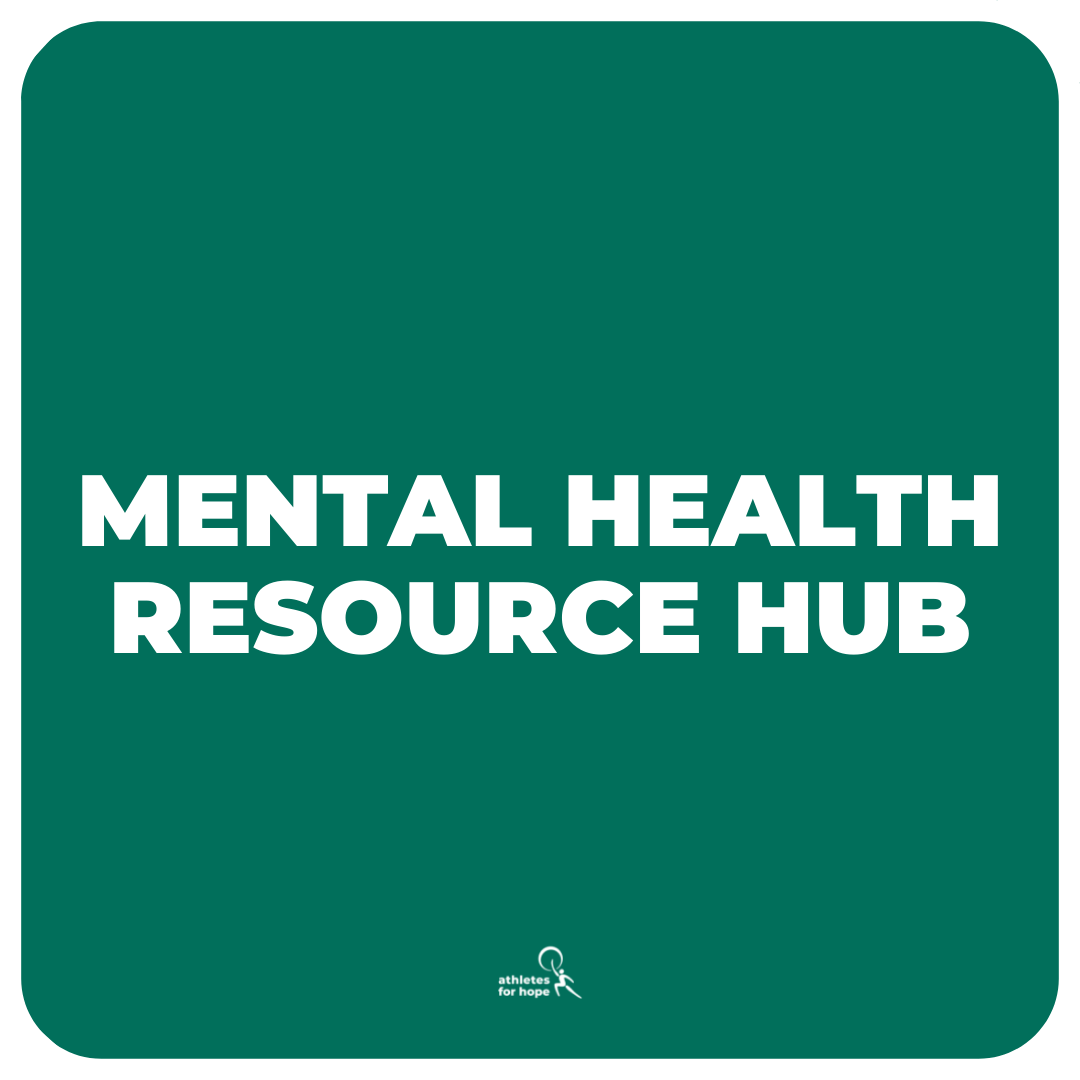 From crisis hotlines, to how to support teammates, to tips on how to stay mindful, there are so many resources available to support mental health. Our resource hub will be frequently updated with new content and events with our Athlete Ambassadors.
Share Your Story
Sharing your personal mental health story can make a difference. Breaking down the stigma can help others find the strength to get health. Dr. Emmett Gill, Clinical Assistant Professor at the Steve Hicks School of Social Work at The University of Texas says, "Athletes are becoming true champions for mental health. Athletes are not just talking the talk, but they are sharing their walk, through their own mental health challenges, and in doing so these courageous men and women are not just changing sports, but forever changing society."
Victoria Garrick of USC shares her personal story in this TEDxUSC talk called Athletes and Mental Health: The Hidden Opponent
Call to Action!
What can you do to help? Here are a few options to consider about ways to take action around mental health.
Talk to a friend. Listen or share your story around mental health challenges and connect with a friend or family member. Sometimes that one on one interaction may be just what you both need to connect and feel better.
Share on social media/share resources. Consider sharing messages of support or retweeting mental health resources for others to see. Use #mentalhealthawarenessmonth or #endthestigma to join the online conversation.
Share your story. If you are in a safe place and feel ok about sharing your own personal story, it can be a powerful tool not only for yourself but for others who may be struggling.
Donate/connect to a cause. Want to do more beyond social media? Consider connecting to a mental health charity or make a donation to support their mission.
Talking about and dealing with mental health can be tough.  However, athletes are natural leaders and courageous self-starters and can be the key we need to tackle the challenges and stigma around mental health! If we work together to bring mental health into our regular conversation, we can open the door to create real change in the way we think and talk about mental health.
Written by by Robin Kuik, UT MSSW & MPH Candidate 2019 and Suzanne Potts, LMSW, MPH in 2019. Updated in May 2022.
Citations:
Gringell, S. (2018, March). Why exercise is so crucial for maintaining mental health. Psychology Today. Retrieved May 9, 2022, from https://www.psychologytoday.com/us/blog/what-works-and-why/201803/why-exercise-is-so-crucial-maintaining-mental-health
Michael Phelps Foundation. (2022, March 23). Homepage. Healthy (Physical and Mental) Living. Retrieved May 9, 2022, from https://michaelphelpsfoundation.org/
Reardon CL, Hainline B, Aron CM, et al. Mental health in elite athletes: International Olympic Committee consensus statement (2019). British Journal of Sports Medicine 2019;53:667-699
Substance Abuse and Mental Health Services Administration. (2021). (rep.). Key Substance Use and Mental Health Indicators in the United States: Results from the 2020 National Survey on Drug Use and Health. Washington, D.C.
TodayShow. (2019, May). Kevin Love hopes his mental health story can help others: 'speak your truth'. Kevin Love hopes his mental health story can help others: 'Speak your truth.' Retrieved May 9, 2022, from https://www.today.com/video/kevin-love-hopes-his-mental-health-story-can-help-others-speak-your-truth-1515486787646
U.S. Department of Health and Human Services. (2022). Mental illness. National Institute of Mental Health. Retrieved May 9, 2022, from https://www.nimh.nih.gov/health/statistics/mental-illness Velasco, H. (2017, July 21). Few student-athletes with mental illness seek help. USA Today. Retrieved May 9, 2022, from https://www.usatoday.com/story/college/2017/07/21/few-student-athletes-with-mental-illness-seek-help/37433787/